1 December
Piece By Piece: A Recap Of Life In Pieces, Episode 9
The Shorts spend quality time together in some rather intimate ways.
Spending quality time together is important for any family. For the Shorts, that kind of invaluable bonding involves a visit to the hospital visit, lunch at a vegan cafe, and sitting for a boudoir photo shoot, as we learned in "Hospital Boudoir Time-Out Namaste."
Here are four particularly hilarious moments from Ep. 9 of Life In Pieces:
1.) Jen meets her match.
No-nonsense Jen is used to getting her way in just about everything she does. So, when she went to the emergency room after cutting her finger, she thought she could talk her way out of the long waiting room line. However, when she approached the nurses station, the woman behind the counter was not picking up what Jen was putting down.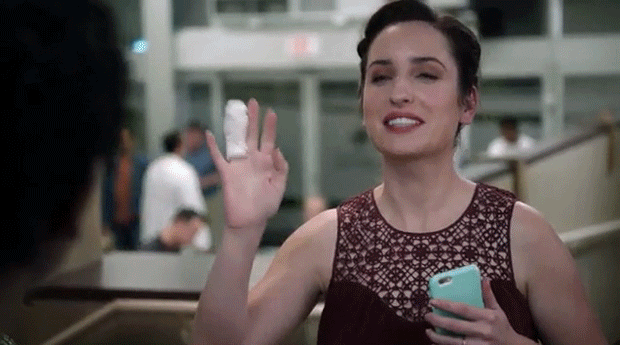 Instead, the sassy nurse snapped back and rebuffed Jen's request. Though, she didn't triumph in the waiting room, the extended delay allowed Greg and Jen to finally snag some well-deserved quality time alone. Hopefully, their next date won't include a gushing flesh wound.
2.) John takes an intense interest in his children's lives after realizing he missed a lot when they were kids.
Feeling like he was often gone when his children were young, John attempted to bond with his kids as adults by actively participating in their daily activities.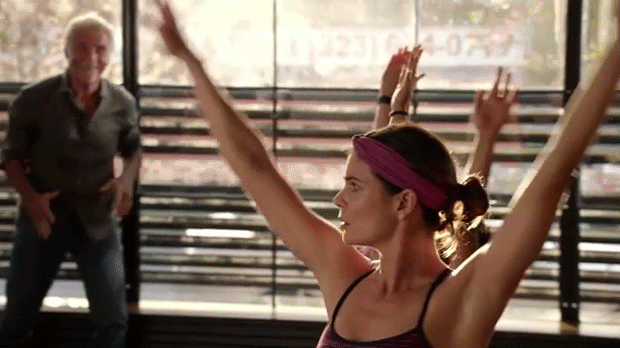 Props to John for attending Heather's yoga class and using it as an opportunity to encourage his daughter through her warrior poses. Who said sun salutations don't deserve sideline cheerleaders?
3.) Sophia gets grounded.
Although Sophia is wise beyond her years, that hasn't stopped her from acting like a typical kid from time to time.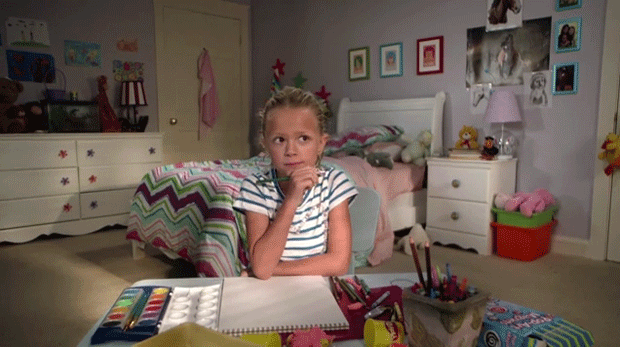 For example, the adorable tot was sent to time-out after saying the bad word for "butt." (Hint: Rhymes with grass.) The resilient little girl silently protested her punishment by writing down all the swear words she knew, including "fart" and "boogers."
Kids say—and write—the darndest things, don't they?
4.) Matt grooms Tim for his sexy boudoir photo shoot.
As a way to make up for laughing at his wife, Heather, after she presented him with book of professionally taken sexy photos, Tim decided to reciprocate by doing his own boudoir shoot. Unable to get the perfect selfie while posing in a variety of seductive outfits, the father-of-three enlisted the help of his reluctant brother-in-law, Matt, to help capture the magic.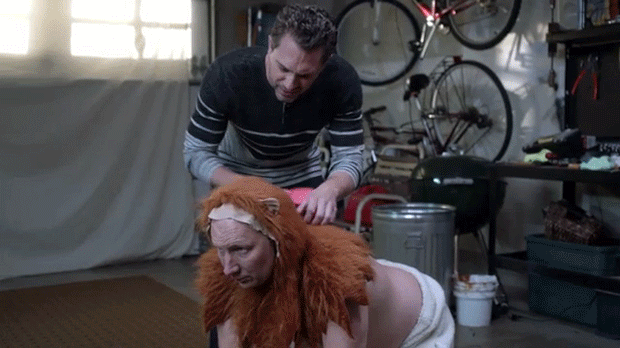 As if that weren't uncomfortable enough, John walks in on the pair while Matt is grooming Tim for a lusty lion set up. Rawr!
To see more Short bonding rituals, watch all-new episodes of Life In Pieces on Thursdays at 8:30/7:30c right after The Big Bang Theory!
Original Source Post: cbs.com