26 September
Weekend Wrapup: Out of Sight/Out of Mind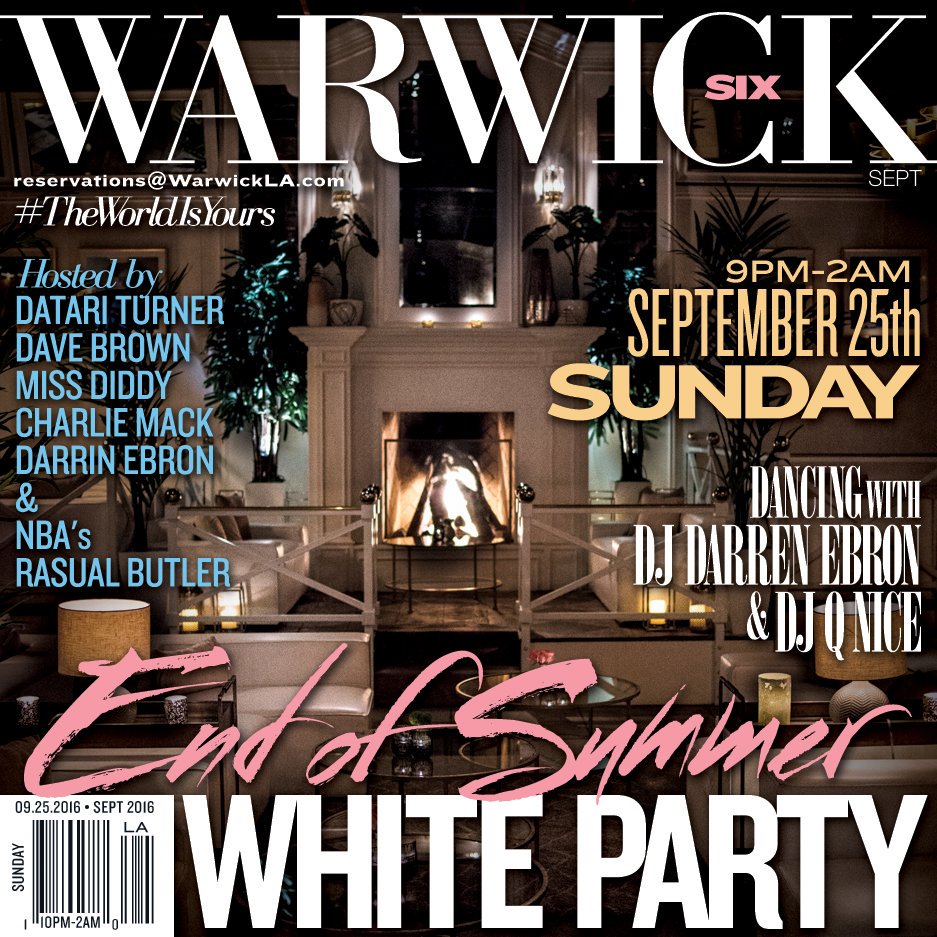 One of my closest friends invited me to Dave Brown's Annual Hollywood All White Party at Warwick. As much as I love hanging out with her, this past week was so crazy busy that I just wanted to stay home and watch the Sunday night premiere shows. However, I told myself a while back how important it is to be seen, meet people and cultivate relationships. Going out, most times, is like going to to gym. You have to drag yourself there, but once you're there, you're good to go, you have a great time and you feel good after. Granted, not all of my Hollywood outings have been great, but this one truly was a fun one.
One of the things my friend and I discussed was the importance of being out and being seen, as she was exhausted to come out to, but she said to me, "Out of sight, out of mind". I get a lot of "wow, you look so familiar" comments when I go out to events or meet folks.  As long as it's not negative, I look at is as I'm getting myself out there and not staying in the comfort zone, cause you truly can't grow and flourish by keeping to yourself.
Actor's Supporting Actors – Un-Rule-Lee
So excited I got to see the remount of my favorite people Lee Sherman remount her One Woman Show, Un-Rule-Lee: I'm Too Big For This Box, before she heads off to NY to perform it in a solo theatre festival in the West End. This community of theatre here in LA is so beautiful and supportive and I truly love the LA Theatre Community.
When Preparedness Meets Opportunity
This pass week saw another milestone accomplished as I had my first series regular audition for a network show. Can't really say what it is, but I enjoyed the process so much that it's a testament that I love what I do and have to keep pushing to do more, be better and manifest the opportunities that continue to come.
One of the things that did surprise me though was the calmness that I was feeling. Usually on a huge audition, there's always some little bit of butterflies that I need to manage, but there were none there. It felt weird and in a sense, I felt like I needed to conjure up the anxiety and nervousness to feel comfortable, but still they wouldn't come.  Later that day, I asked a friend, who also happens to be a very successful working actress and she replied, "That's when preparedness meets opportunity. You're ready for this." It all sounded so wise, but not foreign to me, as I've heard this saying before, but the question to myself was, "Am I truly ready?" After contemplating on it and analyzing my recent experiences in my journeys, I feel confident to say yes.
Leading Women Are Making Strides
This week I also did a table reading for a playwright friend for a script with a full cast of intelligent, funny, complex cast of women. It was so awesome to see more and more works focusing on women showing just the awesomeness of true girl power. By all means, there's still so many more barriers to leap, but I'm loving the continued growth of amount of projects exemplifying the awesomeness of female lead roles.
Another EPK for a New Online Show
I've been hired to do another Electronic Press Kit (EPK) for some more talent friends/content creators for their new online series, Funny Married Stuff. I really have been enjoying working on EPK's for people who are taking their brand and projects to the next level.
Dirty 30 is Released
A Lionsgate film, Dirty 30, that I shot late 2015 was just released this past week. Not sure if I made the final cut but it was great to see the movie released.
And now it's off on another whirlwind week full of adventures.
Be Bold! Be Brilliant! Be Your Best Self!